A disposable e-cigarette that doubles as a glow stick Hyde Edge Rave Disposable vape.Compared to others, its design is unique, with a double-layer casing design, the outer layer being transparent and the inner layer with a gradient colour coating, creating a colourful and eye-catching visual effect.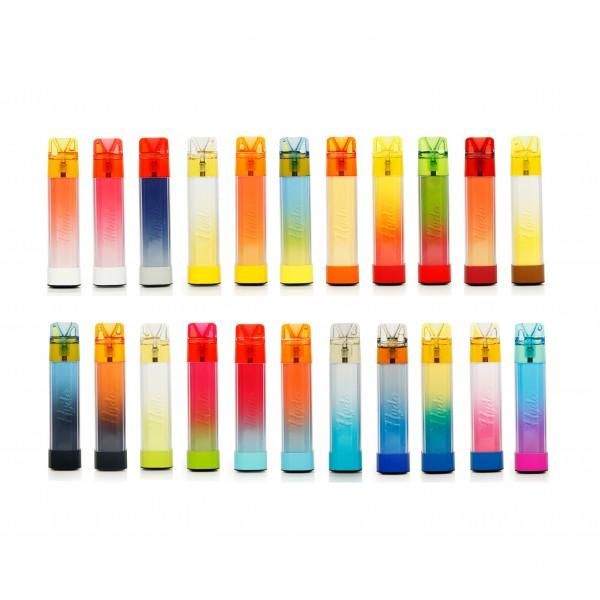 How to light up LED lights?
At the bottom of the unit there are two buttons which can be quickly clicked to turn the light on or off.This adds an exclusive atmosphere and interest when you smoke.
How does Hyde Edge Rave work?
Hyde Vape Disposable for sale Edge Rave vape is a rechargeble device,the internal battery capacity is 600mAh which could be recharged by a Micro USB Charger(Purchase individually).With a large capacity of pre-filled e-juice, enough for about 4,000 puffs, you'll feel like you're in a wonderfully refreshing ocean.
How much flavors does it have?
A wide range of flavours to dazzle you with over a dozen varieties, such as:Peach Mango Watermelon,Tropical,Banana Ice,Bananas & Cream,Blue Razz Ice,Sour Apple Ice,Raspberry Watermelon…
Features
• Double Shell, Bright Color Match
• 50mg Salt-based Nicotine
• 600mAh Built-in Battery
• Take About 4000 Puffs
• LED Light
• Adjustable Airflow
• Non-refillable Design
What are you waiting for? If you come to vape online , you'll get what you want, so act now.
Quick Link:https://vapesourcing.com/hyde-edge-rave-disposable.html