Of course, they are!
Whether you're a first-time e-cigarette user, an occasional e-cigarette smoker who wants to try nicotine salts, or an MTL vaper who wants a quick and easy vaping experience, this is the one for you! Next, we will introduce you to the Elux Slim Disposable Vape in detail.
Let's start with the exterior. It has an all-in-one design that is very simple and elegant. As its name suggests, it is very slim and light yet full of design that you can carry around with you. The colors are also gorgeous, with each flavor corresponding to a different color.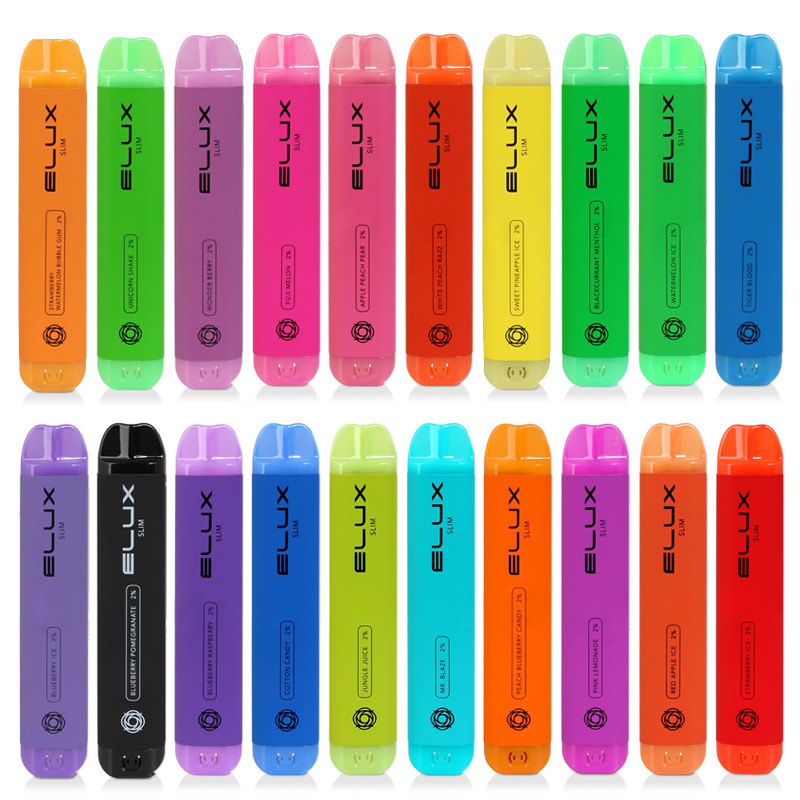 In terms of flavors, this disposable vape is currently available in shops in 20 flavors, mainly fruit flavors, each of which is very pure. Each e-cigarette comes pre-filled with 2ml of vape oil, which is enough for up to almost 600 puffs, equivalent to 20 to 30 real cigarettes. And the oils also all contain 2% nicotine salts to give your throat a bigger hit.
In terms of performance, it is powered by a 500mAh disposable battery with a 1.5ohm coil, so you can enjoy the ultimate MTL vaping experience. You can feel the vape oil reaching your throat and then your lungs after atomization. And this product is also enhanced in terms of leakage prevention, which can effectively prevent liquid leakage, so you can use it with more peace of mind.
In terms of operation, this disposable e-cigarette is similar to other similar products in that it doesn't require you to change coils etc. When you find that the battery has run out or the taste has changed, you can simply dispose of it in the trash. With the draw-activated system, the device can be activated by simply vaping, making it very easy and quick to operate.
In addition to the product presented here, there are many other similar products on the online vape shop uk, so come and have a look!
Flavors:
Apple Peach Pear
Blackcurrant Menthol
Blueberry Ice
Blueberry Pomegranate
Blueberry Raspberry
Cotton Candy
Fuji Melon
Jungle Juice
Mr Blaze
Peach Blueberry Candy
Pink Lemonade
Red Apple Ice
Strawberry Ice
Strawberry Watermelon Bubblegum
Sweet Pineapple Ice
Tiger Blood
Unicorn Shake
Watermelon Ice
White Peach Razz
Wonder Berry
QUICK LINK: https://vapesourcing.uk/elux-slim-disposable-vape.html